Worldview Rethink is a course that any believer can lead. Using self-taught instructions, a leader can take someone who has no knowledge of the Bible and give them the foundation and context necessary to have a clear and objective understanding of the gospel message. In no more than 16 hours, a person can learn the biblical worldview.
The learner follows along with a coursebook and workbook and actively participates by reading along, highlighting, filling in the workbook and watching the video clips.
Thoroughly biblical: Students connect directly with hundreds of Bible verses from creation to Christ.
Proven method: The method is solidly biblical, built on four common-sense principles of learning used in school and university classrooms every day.
Highly visual: Visual aids and video clips bring the course to life, increasing comprehension and retention. There is no time to be bored!
Easy to use: You don't need to be a teacher to lead Worldview Rethink. The course gives both the gifted teacher and the non-teacher full expression of their God-given abilities. Just follow the "self-taught" instructions.
Sensitive to participant: The curriculum is objective—there is no arm-twisting. The emphasis is on students gaining a clear understanding of the gospel.
Adaptable, flexible: Size and venue can vary, from one-on-one in a home to hundreds in a church.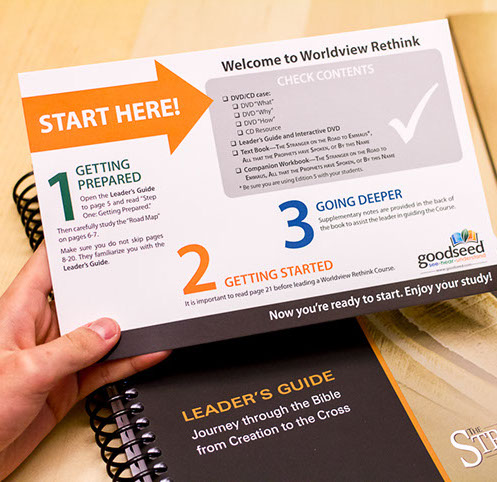 Appropriate for these audiences:
Written for adults and teens, but understood by children as young as 10.
For those who know little about the Bible. Useful for discipleship and back-to-basics teaching of believers.
People who come from a Christianized background.
Background:
The roots of Worldview Rethink were born out of the need to reach remote tribal people with the gospel.
Tribal people know nothing about the Bible. Their concepts of deity, sin and judgment are foreign to Scripture.
The method used to teach them the Bible proved so highly effective, it was decided that it would be beneficial to develop the same material for a much larger audience—thus the genesis of Worldview Rethink.
Why course leaders like Worldview Rethink
You know exactly what to say
Leaders are not expected to memorize reams of notes or to be able to lead an hour-long discussion. Leaders only need to know how to read in a dynamic manner and how to play a DVD. It's so easy, even a novice leader can gain confidence very quickly.
The visual aids do a lot of the teaching
Visual aids are like "velcro for the brain" because they're so memorable. Often, a student will recall a visual aid and remember the important point that it taught. They enliven the sessions and allow students with different learning styles to engage with the material.
It doesn't take shortcuts
Worldview Rethink takes the time to build the Bible's core message, story by story, just as it is unfolded in Scripture. Key concepts like faith, substitution and atonement are easily misunderstood, but the Bible has many stories that define and explain these concepts.
The course doesn't rush through these but takes the time to explain the stories. By the time the narrative enters the New Testament, the gospel pops into focus.
Why participants like Worldview Rethink
No arm-twisting
During the course, there is no pressure for them to believe anything. The focus is on a clear understanding of the Bible. What each student believes is up to him or her. There is no expectation for students to contribute thoughts or comments. They can participate at the level they're comfortable with.
No Bible knowledge required
Participants are not expected to know anything about the Bible. They don't even need to own a copy. Through The Course, they will learn the foundational stories and watch the Bible unfold in a way that makes sense.
No need to take notes
The course provides the full notes in the form of a course book and workbook. There's even an Interactive DVD for students so they can review the material at their own pace.
The curriculum box is the heart of Worldview Rethink. With this set alone, a leader can conduct a course. In the box are "self-taught" training resources for the leader and course materials for the student.
You have three choices of curriculum to choose from.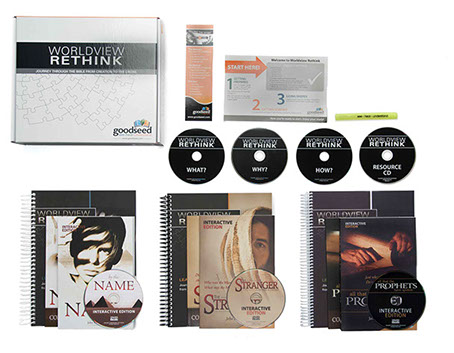 Select the worldview for your curriculum box
There are three curricula:
Eastern worldview
Christianized worldview
Islamic worldview
Your selection depends on the worldview of the student or group that you are leading. Each worldview is sensitive to the students' questions, providing objective and clear answers that naturally arise from that way of thinking. If you are unsure which curriculum to choose, we recommend the eastern worldview curriculum.
EACH WORLDVIEW INCLUDES:
a leader's guide with a DVD (for the leader). Contains full text of the coursebook, plus details on how teach, and a section of leader's notes that goes deeper into the content.
a coursebook with a DVD (for the student)
Two copies of the workbook (one each for leader and student)
These are the available worldviews for the curriculum box. For more information on what a worldview is, please visit our Worldviews page. »
This curriculum is ideal for those who have been influenced by Christianity—whether Protestant, Catholic or Orthodox. When they hear the word "God", they think of the God of the Bible.
This curriculum uses The Stranger on the Road to Emmaus Interactive Edition as the coursebook. It has a corresponding leader's guide and workbook.
AU
UK
CAN
USA
Buy this curriculum on our web stores:
EU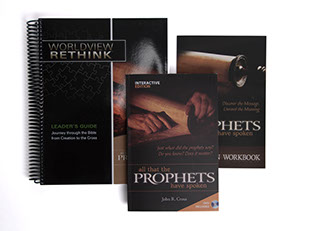 This curriculum is ideal for those who have been influenced by Islam, but not necessarily Muslim by belief.
This curriculum uses All that the Prophets have Spoken Interactive Edition as the coursebook. It has a corresponding leader's guide and workbook.
This curriculum is ideal for those who have adopted their own brand of spirituality to make God out to be anything they want. Others may consider God to be an impersonal force force or may have post-modern, post-Christian or secular ideas.
This curriculum uses By This Name Interactive Edition as the coursebook. It has a corresponding leader's guide and workbook.
Buy this curriculum on our web stores:
Buy this curriculum on our web stores: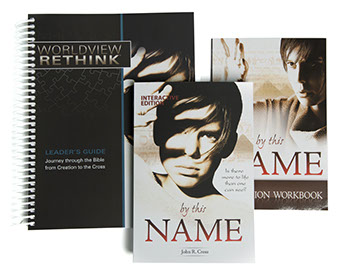 AU
UK
CAN
USA
EU
AU
UK
CAN
USA
EU
In addition, all three sets contain these resources:
Three training DVDs
A resource CD containing printable visual aids, time log, posters and promotional media like course adverstisements and flyers.
Instruction cards
Highlighter
An important component of Worldview Rethink are the visual aid toolboxes. All of these can be used with any of the curriculum boxes. The leader's guide provides detailed instructions on how to use them. In addition, the Interactive DVDs and training DVDs demonstrate the use of the visual aids.
Leaders have found that the visual aids are like "velcro to the brain" because they are so memorable. Often, a student will recall a visual aid and remember the important point that it taught. They enliven the sessions and allows students of different learning styles to engage with Scripture.
This first box of visual aids can be assembled and disassembled as needed and can be packed into the box for easy storage and transportation. Detailed instructions on how to use the Basic ToolBox are found in the leader's guide.
Includes:
Twenty-eight visual aids made from full-colour, die-cut laminated cardboard. When assembled, they become 3D teaching tools to enhance the course sessions.
Each visual aid has a specific purpose:
Stone altar
Sheep (ram, live lamb, sacrificed lamb)
Noah's ark
Tower of Babel
Passover door (with man and firstborn)
Two stone tablets (Ten Commandments)
Sheepfold (with 12 sheep and shepherd)
The cross and tomb
Weigh scale
Priest
Serpent on pole
….and more.
Includes:
This ToolBox contains the most elaborate visual aids in the Worldview Rethink curriculum. They are so unique students often move to get a closer look—the ultimate in awe factor, even as God intended.
Items in this ToolBox can be purchased individually:
NOTE:
The Advanced ToolBox is included in the:
Purchase the Advanced ToolBox from one of our webstores:
As a leader, you will find that the Advanced ToolBox is a valuable asset in enhancing comprehension—whether used in conjunction with the Worldview Rethink curriculum or as part of an independent Bible study lesson.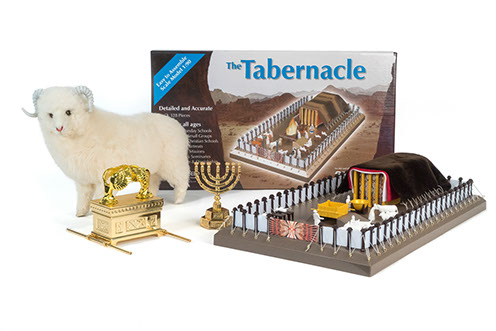 EU
All the tools at a glance
The Stranger on the Road to Emmaus Leader's Guide
All that the Prophets have Spoken Leader's Guide
By This Name Leader's Guide
Curriculum Box (with your choice of curriculum)
Basic ToolBox
Intermediate ToolBox
Advanced ToolBox
Starter Kit
Silver Kit
Gold Kit
Stories
Our blog has stories from believers who have conducted courses with friends and family.
On the fence
I used this book in a small group with three women who were "on the fence" with their faith. The author has done a marvelous job of clearly laying out God's plan for our lives. It was an enormous blessing for me to watch as these ladies began to understand and grasp a clearer understanding of the Bible.
It does an amazing job of tying the Old Testament in with the New Testament and what the new covenant means for us today. I can't think of a book, other than the Bible itself, that I would recommend more strongly. A great book to read for yourself, one-on-one mentoring or a small group. Once you read it you'll see what I mean! The study guide that is offered is also a nice addition to reiterate what you have read and facilitate further discussion. - Audrey
Eyes opened
Incredible! I've been a Christian for 23 years, but had my eyes opened to the most wonderful way to share the gospel, in a non-threatening way, that was simple and chronological. I have struggled with too many words, (that have confused the listener, who stares at me with a glazed look in his eyes), when trying to share the gospel. I feel confident with this material, because it's a straightforward account of the Bible, with enough extra information. thrown in to clarify key points to the one who is seeking. All I can do, is stand amazed, once more , at God's perfect Word, and a grateful heart to those on the Good Seed team that have made this material available to all who are interested in sharing their faith, and to provide it at such a reasonable cost. Thank you, Thank you!! and may the Good Shepherd continue to grant his blessing on all that you do… - Susan
So clear
This book and the DVD series and workbook that accompany it are by far the best, most clearly stated overview of the Bible I've seen. It is an excellent foundational base that can be used with new Christians, mature Christians, and non-Christians. I used it to start a neighborhood ladies' Bible study with ladies from several different faiths. It was so well-received that once we finished it, we were then able to start studying one of the books of the Bible (Mark). John Cross, the narrator/teacher in the DVD, is so easy to understand and makes the truths of God's Word so clear. I highly recommend this for use by an individual, small group, or large group, or anyone seeking to understand the Bible as a whole.
- Melissa
Better understanding
My husband and I ran this course after our involvement with running another well known Christian course for our previous church. Our group from the previous course wanted a better knowledge and understanding than they had received about who Jesus is. Six of us took part - (my husband and I (Christians for 7 years), our daughter (Christian for one year), one person who'd been a Christian for many years but wanted to know more, one person who'd become a Christian at the end of the last course, but had little knowledge of the bible, and one person who thought he was a Christian until the last course where he realized he wasn't! He had a big stumbling block about Jesus and about suffering his wife endured before she died.)
We ran each section and then went through the questions together and discussed issues as they arose where relevant and put aside those that we knew would be covered later. By the end of the course (last week) all participants said how much they enjoyed the course and how much more informative it was than the previous Christian course we'd run.
All of them now want to continue with the group and do some specific bible study. The man who'd had the stumbling blocks now finds that he understands the Gospel and we pray that he will give his life to the Lord very soon. I would highly recommend this course. It takes a lot of the pressure off if you feel inadequate as a leader! - LCM
Teaches the irreducible basics
As a tool for teaching the irreducible basics of the Bible, it's fantastic. Key events from first to last, laid out in a structured, naturally flowing yet objective, non-preachy, non-threatening way. Very beneficial. - Trevor
Systematic and practical
This is a very systematic yet practical study that gives people an in-depth understanding of God's message so that they can make an informed decision to accept or reject it. - Laurie
Bible "knit" together
It has been exciting to go through this study, it has kept my complete attention! It is wonderful to see how the Bible is so easily 'knit' together. - Marie
Even a child can understand it
The study showed the message of the Bible is not a complicated story, but with all the props, it has been simplified so that even a child can understand it.
- Evonne
The Monthly
GoodSeed eNewsletter
Sign up to receive articles, testimonies, sneak peeks of new resources & upcoming seminars. You'll receive a PDF copy of The Tabernacle: Model of Messiah as a thank you for partnering with us.