Andrea and James created their homemade curriculum based on The Stranger.
But now GoodSeed has developed the Worldview Rethink curricula. There are three versions based on the three main books: By This Name, The Stranger on the Road to Emmaus and All that the Prophets have Spoken. Each one focuses on teaching people from a different worldview.
​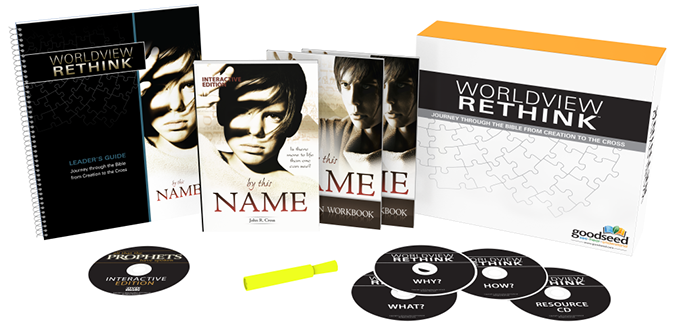 For people with an eastern worldview, e.g., people influenced by New Age, postmodern, agnostic and atheistic thinking. Such people often create their own ideas about God and how life works, based on what they glean from school, friends and media. Many youth in church today have unwittingly absorbed eastern worldview ideas and this curriculum helps answer questions they have.
For people with a Christianized worldview. Younger youth in church tend to have a Christianized worldview as they have not been as exposed to media as older teens. The Stranger curriculum is shorter than By This Name, requiring about 11 hours to complete.
for people with an Islamic worldview. This curriculum answers questions that people from a Muslim background will have. Youth who were previously from such a background and have only been attending church for a short time will benefit from this curriculum.
Andrea and James had to devise their own lesson plans and make their own visual aids.
With Worldview Rethink, the task is easier with leader's guides, workbooks, visual aids and video clips. The leader's guide comes with self-teach instructions and provides guidance on how to lead a group. Do note that the curriculum is not specifically designed for a Sunday school setting. Teachers still need to add in elements to make it successful for their classes. Andrea and James put in their own object lessons and related games. And Andrea made picture posters. But Worldview Rethink makes it a whole lot easier by providing the core teaching material.
While the curriculum is suited to many different situations, the Sunday school environment needs special consideration as there are several things to watch out for.
Worldview Rethink tells the gospel as a story, and as such, it's vital the youth don't miss sessions or there will be gaps in their understanding. Imagine watching a movie in short sections. Once you miss segments, the movie's ending doesn't make sense. It's the same with the gospel. Teachers need to work out how to a) encourage the youth to attend each session and b) how to help those who miss sessions to catch up.
Since each student had a copy of the book, whenever they missed a lesson, James instructed them to catch up by reading the relevant sections. He also did reviews at the start of every session.
Work out how to have a decent amount of teaching time each week. One hour is good. Ninety minutes is better. Start with reviews, then teach a good portion of the book and end with question time. When lesson time is restricted to 30–40 minutes, the gospel story gets fractured.
Andrea relates one incident. "We had a friend who taught a class of teenaged boys. But the sessions were short and the pace slow. By the end of the first year, he had only reached Abraham and the students were losing interest! We encouraged him to have longer sessions and pick up the pace." We concur with Andrea. We like to advise leaders to "go as fast as you can, but as slow as you must."
Answer pertinent questions now and save the rest for later. Every question is important, but it's not critical to answer every one immediately. Some questions will naturally get answered through the course of the study. Others are best collected and addressed once the main lessons are done. Taking rabbit trails disrupts the gospel presentation and takes up more time. The leader's guide introduces a clothes basket idea where questions not directly related to the course are put into a basket to be answered later. This keeps the lessons on track and laser-focused on the main message of the Bible. But be sure to go back to those questions. Students appreciate when teachers take their questions seriously and respond with biblical answers. The leader's guides have an entire section of notes that can help with these questions.
A Sunday school superintendent sent us an email: "Is it necessary for the teachers to have finished the whole book before starting to teach the class?" We would answer, "Yes, it's very important." Teachers need to know how the study flows from beginning to end. Otherwise, they may scupper the lessons by taking rabbit trails or jumping ahead to teach content that the book covers later. It would be a confusing experience.
Teachers need to know how the study flows from beginning to end. Otherwise, they may scupper the lessons.An effective way to get teachers ready is with a training camp or retreat. Get all the teachers to commit to a two- or three-day period when you can teach them in the same manner that they will teach their classes. Once they are trained, you have three methods for teaching the curriculum to the youth.
Just like with teachers, the most effective method with youth is to set aside a special time like a camp, retreat or saturation weekend. When the group carves out time to study the Word together for a short but intense period, the benefits are many. The group has uninterrupted time to study the Bible, and they have opportunity for fellowship and bonding.
One church elder, Evan, describes using Worldview Rethink at a training weekend with a mixed group of adults and teens.
"I and another team leader (who was also a good reader) each had a leader's guide which shows some text in grey and some in white. I read the sections in white, and she read the sections in grey. This worked really well. The other thing we did, right from the beginning, was have our 15 team members read the Scripture verses when they came up. We did this by just going 'around the circle' so the next person to the left knew they were up for the next Scripture verse. This also worked really well."
This interactive method was a big success. Evan goes on to say, "Even though we had a mixed bag of youth and adults, everybody got to participate. Especially the first night, it was so powerful reading all those scripture verses about how glorious, wonderful and powerful God is.
"The feedback we got from our mission team participants was phenomenal. I would go so far as to say it was a life-changing experience for many."
The impact was great for both young and old. Take Vicky for example. She said, "I thought that, as a youth, I might not get that much out of this weekend and it would be more the adults who get the most out of it. Well, I have got so much out of it and I really understand the Bible's message now."
A second way is to set up a special time of 13 weeks to go through the curriculum. Teaching time for the curriculum content alone is 16 hours. Then add in review and question time. We would recommend no less than 90 minutes of teaching per session. If you can make special arrangements for one semester, you'll be able to go through the whole curriculum without rushing. (The questions that don't get answered during this time can form the basis of next semester's lessons. This way, you know you are addressing questions the youth have!)
To make this special semester work, you'll need to work with the church and the parents to allow for longer sessions of Sunday school or small group.
This method is possible, but is the least preferred approach. With limited time each week, the study may stretch over a whole year. We have heard from teachers that when this happens, the gospel's narrative gets disjointed. Students start to forget what they learned at the start of the study and this is made worse when they miss sessions. Additionally, when the pace is slow, ennui settles in and the students do not learn as effectively.
However, If this is only viable option for you then remember these points:
Do reviews regularly to help students stay on the same page and to help others catch up.
Teach as fast as the class can manage without overwhelming them.
Ask the students lots of questions to check their comprehension. (Start with the workbook questions.)
Keep disruptions to a minimum.
Take advantage of the visual aids and video clips to keep interest levels high.
Consider small rewards and treats for regular attendance or for answering questions well.
If new youth join the group, we recommend they don't join the study midway. Because they haven't followed the progression of the story, they'll be prone to getting lost. It's better if another trained teacher takes them for one-on-one lessons. Andrea and James had extra teachers on stand-by who could jump in and teach individuals at a moment's notice. If the class started not too long ago, this one-on-one teaching can help the new student catch up to where the group is and then they can join in. Or if the class is near the end, then simply continue with the one-on-one sessions till the curriculum is done. Alternatively, use a shorter book like The Story that Matters to give a concise overview of the gospel message before the new student joins the rest of the group.